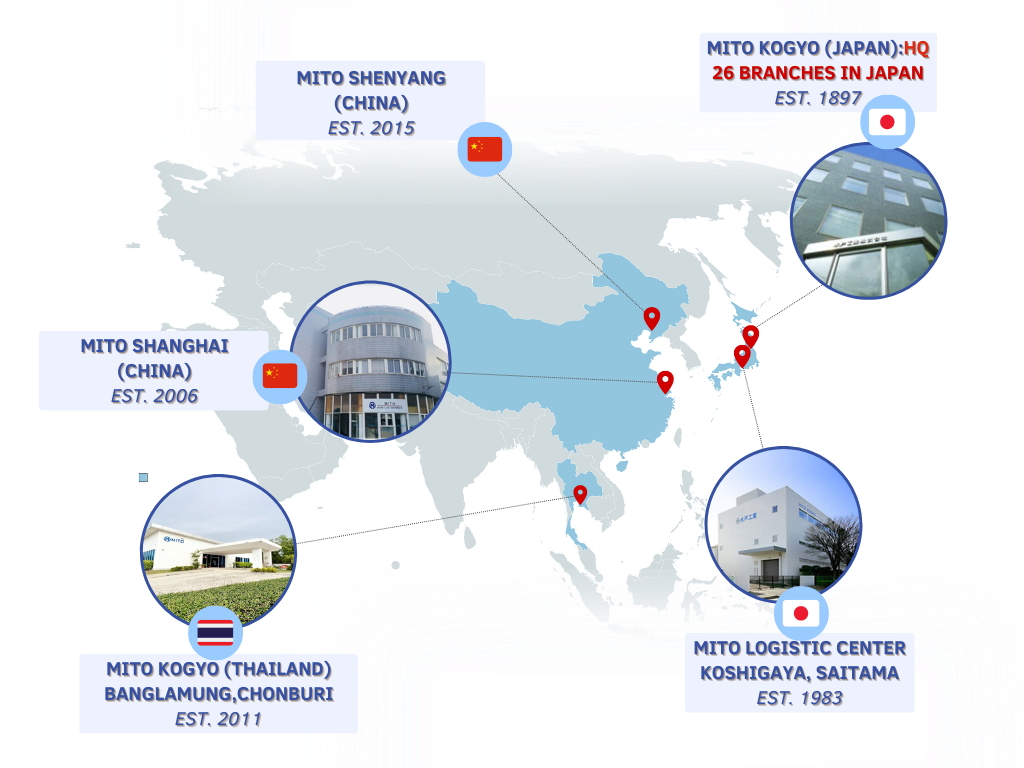 Corporate Profile
Company Name: Mito Kogyo(Thailand) Co.,Ltd.
Established in: Aug 2011
Location: 123/2 M.4 T.Takiantia
           A.Banglamung Chonburi 20150
Tel:     033-006-176-8
Fax: 033-006-179
Email : mtth@mitokogyo.co.th
Business type: Trading company (Fabless Company)
Business sector: Automotive, Commercial Vehicle
(Truck, Excavator etc.)
Certification: ISO9001:2015, ISO14001:2015


Headquarter: Mito Kogyo Co., Ltd.
6 Kitanorimonocho Kanda,
Chiyodaku, Tokyo 101-0036
Overseas offices: 26 branches in Japan
1 logistic center at Saitama (Japan)
2 branches in China (Shanghai and Shenyang)
1 branch in Thailand (Chonburi)

At Mito Kogyo(Thailand) Co.,Ltd.
We have grown with the patronage and support of our customers and business partners. Currently, Mito Kogyo (Thailand) provide not only machine tools, but also machine equipment and machine industry parts to all industries such as the automobile industry, aerospace industry, construction machinery industry, optical precision machinery industry, etc. Mito Kogyo(Thailand) also provide maintenance supplies for automobiles. We are contributing to the development of our country through the satisfaction of a wide range of customers in many industries.

With the advent of the global era, Mito Kogyo (Thailand) aim to become a world-class company and have acquired ISO 9001 and 14001 certifications at an early stage. Mito Kogyo (Thailand) are striving to establish the activities and to develop human resources, aiming for further customer satisfaction and at the same time to restore the soundness of management.

In the 21st century, the world is in a new stage of development due to advances in IT technology. In addition, countries facing new development, including China and India, are achieving rapid economic growth due to their infrastructure development. The role of the Japanese machinery industry in the world has changed significantly, and along with this, the demands of our customers have become more advanced. We will actively grasp these changes, always remembering the spirit of taking on challenges, and will continue to make further efforts for the development of our customers, the development of society, and the happiness of mankind. We look forward to your continued guidance and support.